AICD is world renown...by those who value the best.

Are you ready to be challenged as a fine artist?

Do you want to develop precision carving skills?

Do you want to develop the ultimate
competitive edge in your ice sculpting abilities?

You will learn how to realistically sculpt an
"actual person" that people will recognize.


You will even get to choose whose face you want to carve - such as an influentual leader, award recipient, celebrity, foreign dignitary, retiring associate, or special loved one!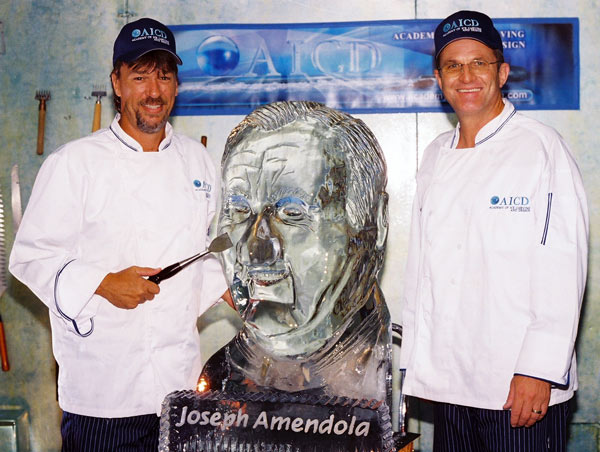 AICD student Executive Chef Billy Redd on left. Paul Germain on right.


Does carving a real person's face (not just a generic face) in ice seem way too difficult or perhaps even impossible? The process of carving realistic high relief portraits in ice is definately not easy. But, just like AICD's student, Executive Chef Billy Redd above, you will be amazed by what Paul Germain's legendary breakthrough teaching techniques and precision oriented portrait ice carving methods will enable you to do.

The above portrait was carved during instruction in memory of the Culinary Institute of America's beloved Master Chef, Joseph Amendola. As with all of AICD's ice carving projects, the face carving in ice was sculpted solely by the student using AICD's acclaimed step-by-step method of face carving instruction under the direction of Master Instructor Paul Germain.

Billy exuberantly said "I came to AICD as a craftsman, but left as an artist!"


Experience the one-to-one educational and artistic opportunity of a lifetime
under the fascinating guidance of AICD's Master Instructor Paul Germain.

The perfect time has come to make
your ultimate artistic goal a reality.

Reserve your training dates now.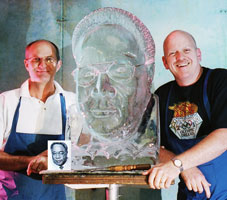 This ice carver's project was to sculpt a 40 inch tall portrait of
Alex Haley, the noted author of "Roots", in a block of clear ice.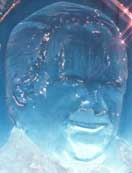 ....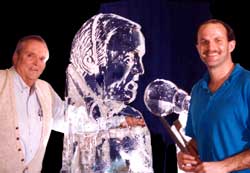 Featured here are portraits in ice of Rush Limbaugh and Bruce Williams


Providing far more instruction than what mere demonstrations of complex carvings can provide, Paul Germain's totally immersive, one-to-one, hands-on training techniques and real life applications make even the most detailed features of AICD's fascinating instructional programs come to life. Paul's break through methods of training prove to be nothing short of contagious for highly motivated chefs, culinary instructors, and professional ice carvers who want it all - their testimonials then say it all!



This intensive program of one-to-one private instruction is available year-round.


Reservations are available up to one year in advance with paid tuition.
Paul German will be happy to adapt your training schedule to best fit
your particular travel needs - such as flight arrival/departure times.


Prerequisites:

Certified Chef Ice Artist Ice (CCIA) Program or Certified Professional Program,
or commensurate experience (requires portfolio of previous ice carvings).


The Portrait / Faces Ice Carving Program features 30 hours of private, advanced ice carving instruction with an emphasis in realistic high relief sculpting tecniques and visualization. 10 of the 30 hours consist of offsite coursework (in hotel) designed to make the student's preparation for the next day's instructional activities as beneficial and enjoyable as possible. Textbooks, drawing aids, clay, modeling tools, facial feature models, and other materials are furnished upon arrival at AICD for this offsite coursework.

AICD provides one-to-one personalized instruction that is tailored for each student's experience and future objectives. Private instruction ensures that student carvers of any level receive far more actual training and individual guidance than is possible within group ice carving classes. It also provides a much safer and more productive learning environment for developing the advanced art skills needed for highly realistic and creative multi-block construction.

Total Continuing Education Hours (CEH) for this class: 30 hours



Be sure to read what chefs and career ice carvers have shared about their experience at AICD.


AICD's Lifetime Certification Guarantee:

Due to AICD's proven "hands on" approach to comprehensive instruction and its stature as a private school, you can earn each level of AICD Certification for life with no certification fees, no yearly fees, and no membership requirements.

To maintain the integrity of AICD's educational programs, activities such as attendance at conventions, competitions, and related activities cannot be counted for receiving AICD Certification. A carver's unique experiences may, however, qualify as the prerequisite for enrolling in AICD's advanced instructional programs.




AICD's training/certification programs are a valuable way to earn points
for NICA's and ACF's certification programs, which are independent of AICD.




Note:
The art of ice carving involves the use of tools and equipment that are inherently dangerous. To meet the safety-related needs of professional ice sculpture companies, ice carving schools, hotels, country clubs, and caterers, a high priority is given to the development of safe carving, delivery, and set-up practices. This program requires that the carver be in excellent health, and must be physically able to work with heavy materials and equipment for prolonged periods of time in both warm and cold environments.

The ice carving industry is growing at a phenomenal rate in the U.S and around the world. AICD is dedicated to providing the most comprehensive ice sculpture training possible for ice sculpture companies, hotels, caterers, country clubs, and culinary schools seeking to employ highly qualified, professionally certificated chefs, ice carvers, and sales associates.